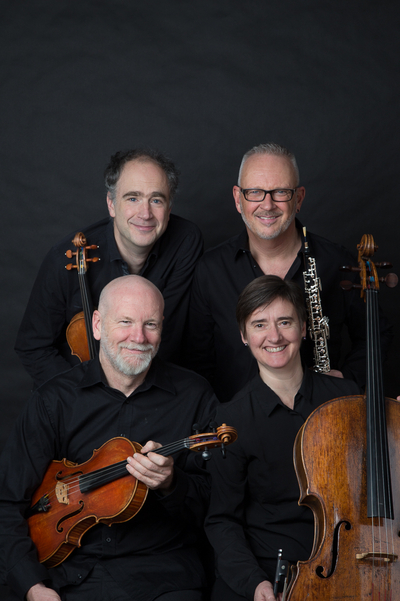 The Berlin Oboe Quartet
Formed in 1984 by four musicians who met while studying in Berlin and playing with the Berlin Philharmonic Orchestra, the Berlin Oboe Quartet was a scholarship-holder of the Countess of Munster Musical Trust, which enabled the young musicians to gain enormous concert experience touring the United Kingdom. Concerts throughout Germany and Poland followed, and the Quartet soon found its own voice: inspired by the works of Mozart and Britten, the Berlin Oboe Quartet has built a considerable repertoire of classical works (Johann Christian Bach, Carl Friedrich Abel, Josef Fiala, Luigi Gatti) and made a speciality of presenting oboe quartets by major British composers throughout Europe (Benjamin Britten, Richard Rodney Bennett, John McCabe, Colin Matthews). They have recorded the central works of their repertoire for the SFB and the BBC. Impressed and delighted with their performance of his Oboe Quartet No.1 in London, Colin Matthews immediately expressed an interest in writing a second quartet for the ensemble. They first played his Oboe Quartet No. 2,
at London's Purcell Room and at the Bath Festival for the BBC.
Nigel Shore - oboe
Florian Donderer - violin
Brett Dean - viola
Anna Carewe - violoncello